Extra Curricular Timetable
At Aston Academy we value the important role that extra-curricular activities, house competitions and enrichment opportunities play in a student's progress and enjoyment in school.
Last year, 46% of students in Year 7 – 11 attended a school club or after school activity. This is excellent to see and with new clubs and activities available to students this year it would be great to see even more students getting involved.
Below there are the key dates for clubs in Term 1. Please see the wider curriculum clubs, Sports Clubs and House Competitions.
With the change to the school day, clubs will now run from 3:10pm – 4:10pm unless some fixtures and competitions run for longer - students will be made aware in advance.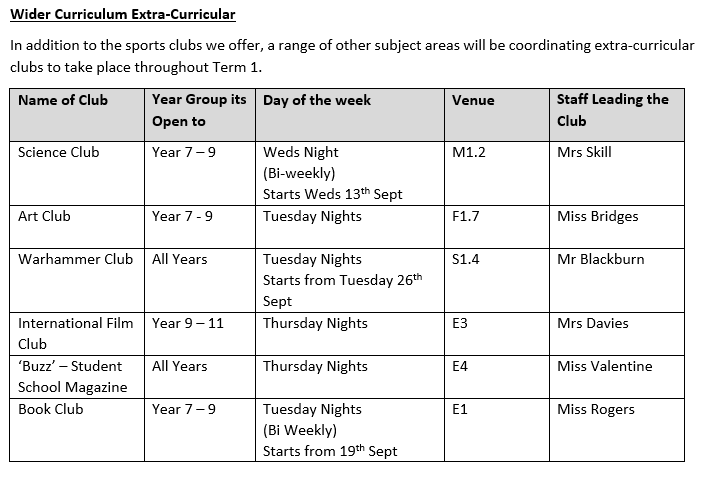 Extra-Curricular Sport
For students interested in sport the clubs highlighted below will be open to all students each evening from the end of school until 4:10pm. The focus during these sessions will be on enjoyment and participation. The clubs will also have fixtures against other schools throughout the year. To be part of the team you should attend training and all players will be provided an opportunity to represent the school. Details for fixtures will be given to the students selected as finishing times will vary depending on the venue of the fixture.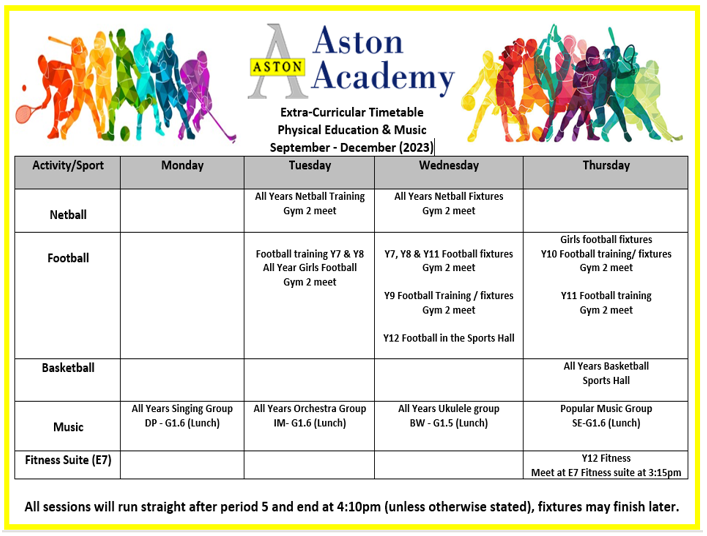 House Competitions
Each student at Aston Academy is placed in to a House linked to his or her tutor group. For example 7 Furnival 1. Throughout the year achievement points gained by students in class not only go towards individual recognition but also towards the total House competition score. At the end of the year we add all House points up to crown our House champions!
Another way a student can win additional points for their house is by taking part in our House Competitions. These competitions run from 3:10pm – 4:10pm after school and House Staff will visit tutor groups in the build up to select a team to represent them. Below are the dates of the competitions in Term 1. If your son or daughter would like to sign up for any of these competitions please see the house staff highlighted below when they visit your tutor group.